Insects in Macao and their role in the local ecosystem
January 26, 2021 @ 7:00 PM

-

8:30 PM

UTC+0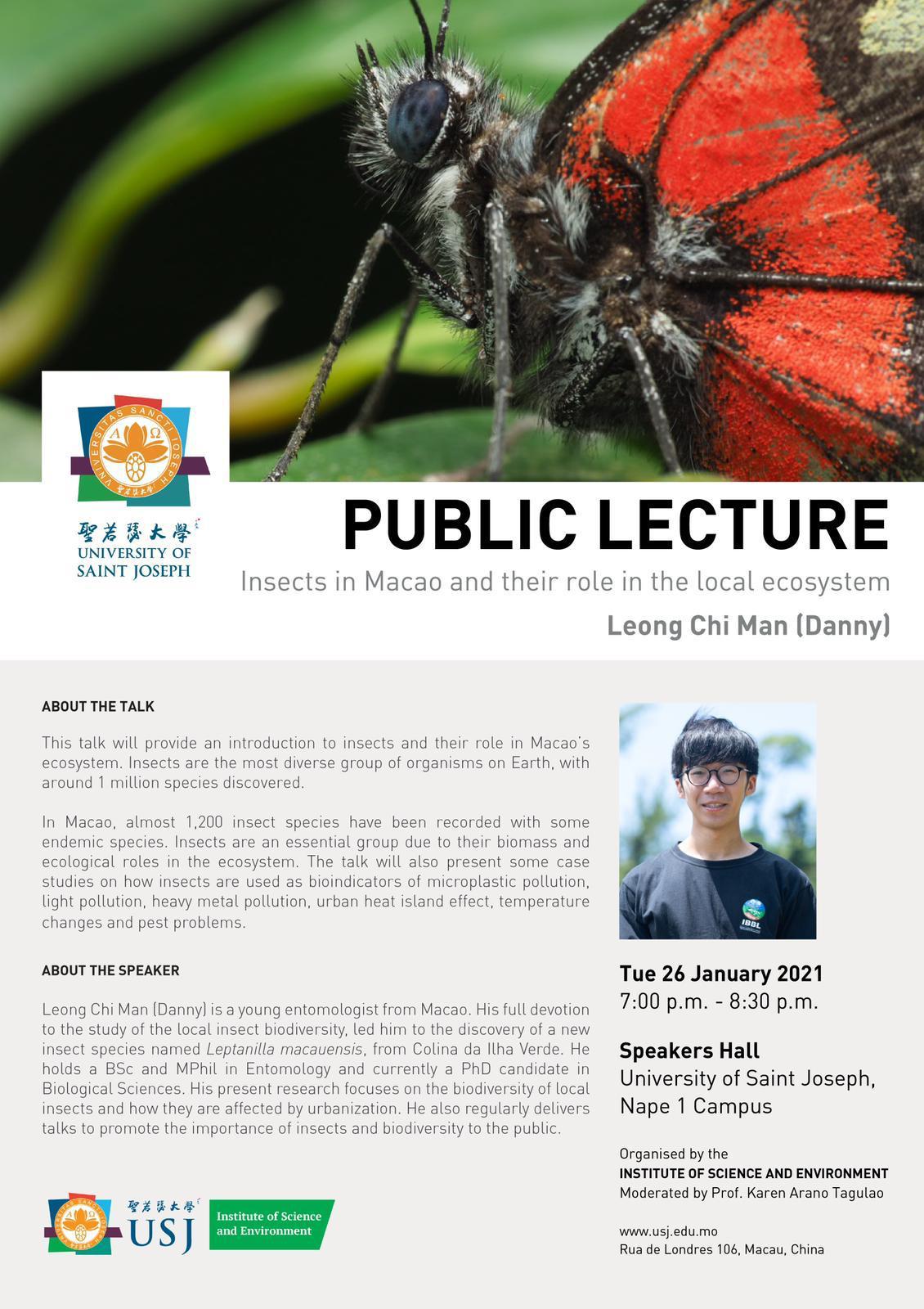 About the talk
This talk will provide an introduction to insects and their role in Macao's ecosystem. Insects are the most diverse group of organisms on Earth, with around 1 million species discovered.
In Macao, almost 1,200 insect species have been recorded with some endemic species. Insects are an essential group due to their biomass and ecological roles in the ecosystem. The talk will also present some case studies on how insects are used as bioindicators of microplastic pollution, light pollution, heavy metal pollution, urban heat island effect, temperature changes and pest problems.
About the speaker
Leong Chi Man (Danny) is a young entomologist from Macao. His full devotion to the study of the local insect biodiversity, led him to the discovery of a new insect species named Leptanilla macauensis, from Colina da Ilha Verde. He holds a BSc and MPhil in Entomology and currently a PhD candidate in Biological Sciences. His present research focuses on the biodiversity of local insects and how they are affected by urbanisation. He also regularly delivers talks to promote the importance of insects and biodiversity to the public.
Details: 
Date: Tuesday, 26 January 2021
Time: 7:00 p.m. – 8:30 p.m.
Location: Speakers Hall, USJ Nape 1 Campus, Rua de Londres 106, Macau, China
Organised by: Institute of Science and Environment, University of Saint Joseph
Via Online:
Join Zoom Meeting:
https://zoom.us/j/98297305484?pwd=bWozdCttbWxqNGROTmVsdG1pUDhWdz09&fbclid=IwAR1d9h0hbkZr2LB3Vqrm1G1Z2x8YD9wTL-H2LjVRKriys9_jOKVds7Dovp8
Meeting ID: 982 9730 5484
Passcode: 453461