ISE+FAH Public Lecture: Journalists and Scientists – A kind of Love Story?
February 13 @ 6:00 PM

-

7:00 PM

UTC+0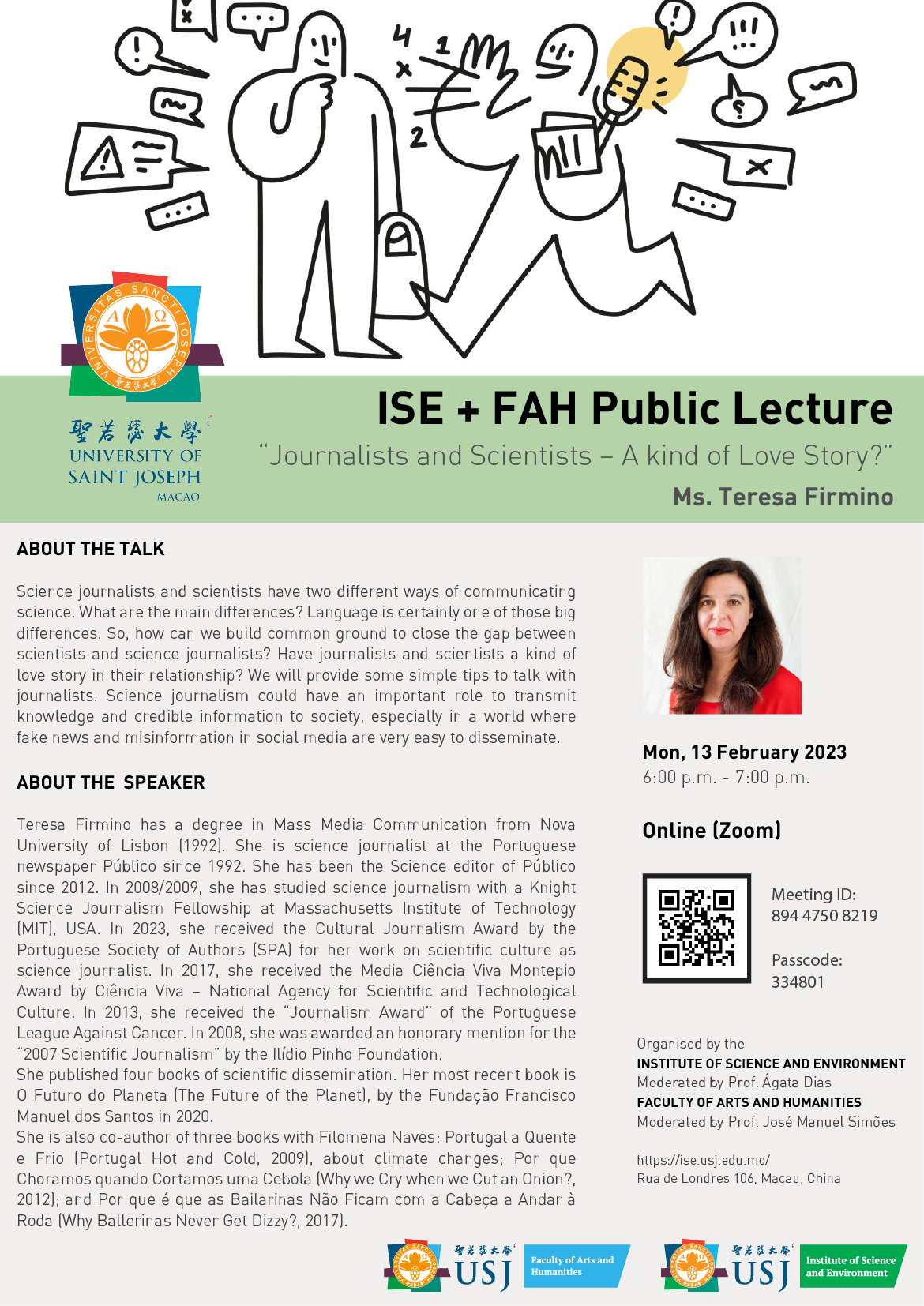 ABOUT THE TALK:
Science journalists and scientists have two different ways of communicating science. What are the main differences? Language is certainly one of those big differences. So, how can we build common ground to close the gap between scientists and science journalists? Have journalists and scientists a kind of love story in their relationship? We will provide some simple tips to talk with journalists. Science journalism could have an important role to transmit knowledge and credible information to society, especially in a world where fake news and misinformation in social media are very easy to disseminate.
ABOUT THE SPEAKER:
Teresa Firmino has a degree in Mass Media Communication from Nova University of Lisbon (1992). She is science journalist at the Portuguese newspaper Público since 1992. She has been the Science editor of Público since 2012. In 2008/2009, she has studied science journalism with a Knight Science Journalism Fellowship at Massachusetts Institute of Technology (MIT), USA. In 2023, she received the Cultural Journalism Award by the Portuguese Society of Authors (SPA) for her work on scientific culture as science journalist. In 2017, she received the Media Ciência Viva Montepio Award by Ciência Viva – National Agency for Scientific and Technological Culture. In 2013, she received the "Journalism Award" of the Portuguese League Against Cancer. In 2008, she was awarded an honorary mention for the "2007 Scientific Journalism" by the Ilídio Pinho Foundation.
She published four books of scientific dissemination. Her most recent book is O Futuro do Planeta (The Future of the Planet), by the Fundação Francisco Manuel dos Santos in 2020. She is also co-author of three books with Filomena Naves: Portugal a Quente e Frio (Portugal Hot and Cold, 2009), about climate changes; Por que Choramos quando Cortamos uma Cebola (Why we Cry when we Cut an Onion?, 2012); and Por que é que as Bailarinas Não Ficam com a Cabeça a Andar à Roda (Why Ballerinas Never Get Dizzy?, 2017).
MODERATOR:
Ágata Dias (ISE) + José Manuel Simões (FAH)
ZOOM:
Meeting ID: 894 4750 8219
Passcode: 334801