PhD student in Science (Marine and Earth Sciences)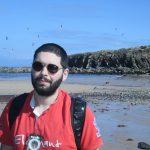 Research Gate: Pedro Costa
EDUCATION:
2015 in BEng in Geological Engineering
2017 in MEng in Geological Engineering
ACADEMIC PROFESSIONAL EXPERIENCE:
2019 to present, PhD in the Institute of Science and Environment (ISE), NAPE, Macau
My interests mainly relate to the study of metallic deposits, their formation, composition, and spatial distribution within the area of study. During the course of my Masters in Geological Engineering I focused primarily on estimation and simulation methods in a mining setting to infer the locations and content of ore metals, as well as other metals that would prove to be damaging to the quality of the material. I am currently working on seafloor metallic deposits, mainly oxyhydroxides found in the Mid- Atlantic Ridge (MAR) by focusing on their mineralogical and geochemical composition so that I may create/adapt known methods of geospatial analysis and better understand the distribution of the metals in the deposits, both within and among each other.
SELECTED RESEARCH PROJECTS
Quelhas, P., Borges, R., Dias, Á. A., Ribeiro, L., Costa, P., Mata, J. (2021) Geological Map of the Macao Special Administrative Region (China). Journal of Maps. 17:2, 257-267. https://doi.org/10.1080/17445647.2021.1906340
Costa, P., Dias, Á. A. (2020) Oxyhydroxide Hydrothermal Crusts from Saldanha Hydrothermal Field Goldschmidt2020:

https://doi.org/10.46427/gold2020.478

Costa, P., Dias, Á. A. (2019) Hydrothermal Fe-Mn deposits from low-temperature systems of the Mid-Atlantic Ridge. InterRidge Workshop on Hydrothermal Ore-forming Processes, Hangzhou.
Dias, Á. A., Costa, P. Marques, A.F., Ribeiro, L., Madureira, P., Calado, A., Gonçalves, E., Morato, T. (2019) Geochemistry of Fe-Si-(Mn) Chimneys from Luso Vent Field, MAR. Goldschmidt2019. 10i, 445. Barcelona. https://goldschmidt.info/2019/abstracts/abstractView?id=2019003072