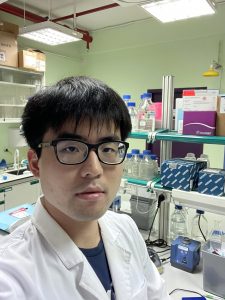 E-mail: chu.wai.kei@usj.edu.mo
EDUCATION:
2018 BSc in Pharmacology at University College London (United Kindgdom)
2020 MSc in Biomedical Sciences at Katholieke Universiteit Leuven (Belgium)
ACADEMIC PROFESSIONAL EXPERIENCE:
Research Assistant (Environmental Biotechnology Laboratory, University of Macau, Macau).
Research Assistant (Institute of Science and Environment, University of Saint Joseph, Macau).
Today, about 85% of current diseases have been treated with products of natural origin, the identification of bioactive molecules from natural products has always been of vital importance to humans, whether in the pharmaceutical, medical or food industries. Combining modern methods of characterizing and testing compounds with knowledge of the ecological or evolutionary history of animal species is the key to our more effective identification and utilization of molecules of interest.
One of the important sources of bioactive compounds is the external mucus of fish. In this project, I am interested in studying the function, mechanism and biological activity of the mucus secreted by fish from the coasts of Macau and Portugal, combined with the knowledge of fish physiology and ecology, in order to explore its beneficial applications to human.
SELECTED RESEARCH PROJECTS