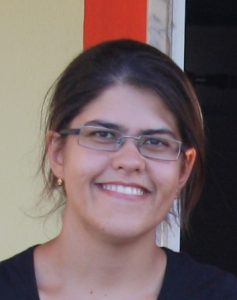 ResearcherID: H-1372-2012
— ORCID ID: 0000-0002-1006-2323
— Research Gate: Sara D. Cardoso
e-mail:
sara.cardoso@usj.edu.mo
EDUCATION:
2009 BSc in Biology, specialization in Evolutionary and Developmental Biology
2011 MSc in Bioinformatics and Computational Biology
2019 PhD in Biological Sciences, specialization in Molecular Ecology
ACADEMIC PROFESSIONAL EXPERIENCE:
2013 to 2018, PhD student in the Integrative Behavioural Biology Lab at the Instituto Gulbenkian de Ciência (IGC), Oeiras, Portugal.
2019 to Present, Postdoctoral fellow at the Institute of Science and Environment.
Broadly, I seek to understand the proximate mechanisms underlying the expression of behavior, specifically the ones that facilitate consistent patterns of behavior within populations/strains of the same species. During my PhD, I focused my research on sexual behavior and developmental plasticity, where I investigated the neural and molecular mechanisms that regulated the observed plasticity in behavior in natural populations by doing RNA-seq. Currently, I am interested in how sexual conflict is resolved in a system where both males and females display different levels of aggression due to either natural or artificial selection. Additionally, the genomic basis of aggression in this species is being researched using different approaches from hormonal to genomic analyses by comparing the described strains.
Genomic and physiological mechanisms of aggressive behaviour; Transcriptomics of intralocus sexual conflict; Genome editing using the CRISPR tool kit.
Cardoso SD, Ramos A, Louro B, Canário AVM and Gonçalves D. "Divergent neurogenomic response to aggression in male and female Siamese fighting fish", contributed talks session 6 – Sexual selection and conflict, Genetics and Genomics. Association for the Study of Animal Behaviour (ASAB) Winter 2020 Virtual meeting. December 3-4, 2020.
Cardoso SD, Gonçalves D, Saraiva J, Goesmann A, Canário AVM and Oliveira, RF. "Alternative reproductive tactics and sex role reversal in the peacock blenny Salaria pavo, a transcriptomic analysis", contributed talks session 4 – Genes and Behaviour (CT4.4). Behaviour 2017: joint meeting of the 35th International Ethological Conference (IEC) and the 2017 Summer Meeting of the Association for the Study of Animal Behaviour (ASAB). July 30 to August 4, 2017. Estoril Congress Center, Estoril, Portugal.
Cardoso SD, Ramos A, Gonçalves D. Unravelling the neurogenomic basis of aggression in males and females of the Siamese fighting fish Betta splendens. Poster no. A38 at the Society for Social Neuroscience (S4SN) 10th Anniversary Meeting. October 17-18, 2019. Museum of Science and Industry, Chicago, IL, USA.